…about modern "males" (the word "man" shall never apply to creatures like this).  From the last remaining readable part of Ace of Spades' blog, the overnight open thread:
The Turner prize-winning artist has turned his sights on the survivalist [Bear Grylls] and his exceptionally rugged version of masculinity, arguing that it isn't fit for the 21st century. "He celebrates a masculinity that is useless," [Grayson ] Perry said. Perry said that the masculine ideal presented by shows such as The Island, in which Grylls is currently putting a third group of hapless contestants through survivalist hell, is making it harder for men to successfully negotiate modern life. "Men might be good at taking the risk of stabbing someone or driving a car very fast, but when it comes to opening up, men are useless," Perry told the Radio Times in an interview to promote his new series, All Man.
The poster notes that
Grayson Perry's interests include pottery, writing, opening up emotionally along with the occasional transvestism.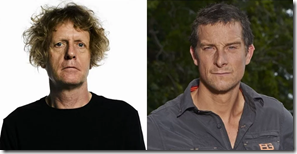 And there you have it.  The guy on the left won the Turner Prize, which has been awarded to such towering cultural figures as Martin Creed, whose prizewinning "art" was a room where the lights go on and off at random, and, well, Grayson Perry.  I'll  let the BBC handle this one:
Pottery artist Grayson Perry, who creates vases depicting subjects like death and child abuse, has won this year's Turner Prize.

Perry accepted the award in a dress, as his female alter-ego Claire, thanked his wife and said he was "stunned".

A popular choice among the public, he beat off competition from the favourites, the Chapman brothers.
[And good on the Beeb for using the phrase "beat off" in any context featuring modern art].
Bear Grylls, meanwhile, was in the SAS, an outfit that even other special forces consider pretty badass (and only left because he broke his back in a parachute accident).  Just for giggles, here's what you have to do to be selected for the SAS.  I particularly like this bit:
The endurance phase culminates with 'the long drag', a 40 mile trek carrying a 55lb bergen, that must be completed in under 24 hours.
And that's just phase one, followed by "jungle training" and "escape and evasion."  All of which gets you provisionally admitted; lots of folks still fail out after that.  Now, I'm no Turner Prize winner, but the mere thought of any of that stuff exhausts me.  And that's all before you get into all the "infiltrating enemy territory" and "killing elite enemy soldiers" stuff that commandos do.
Now I'm not saying that a "real man" has to be Bear Grylls (compared to the SAS, 99% of the world's males are total pussies).  But the bar is certainly higher that "dressing up like a woman to receive awards for one's pottery."